Google secure initiative now has a date – June 2018 – are you ready?
Is your website secure?
With effect from June 2018 Google will clearly say your website is 'Not Secure' if you do not have an SSL certificate.
What does this mean to me?
Currently Google Chrome shows

in the address bar next to your domain and when this is clicked on it says "Your connection to this site is not secure", however with effect from June 2018 it will clearly show that your website is not secure and will look like this:-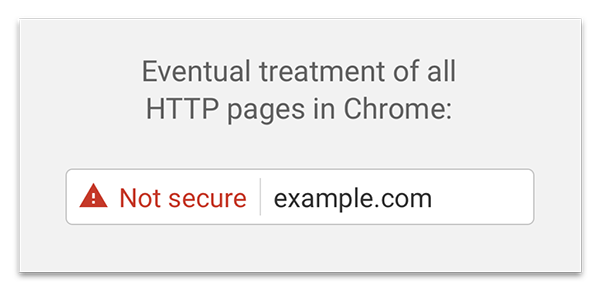 Potentially this could have a direct impact on the users to your website. If Google tells them your website is non-secure, will your users not worry and stay on the site or will they worry and leave and go elsewhere, which potentially could mean a loss of business for you.
Google wants to make the web a "safer place" for everyone to browse and have said that "user security has always been a top priority" and with that in mind they want all websites to run as HTTPs rather than HTTP.
And with the Google Chrome browser being the most popular worldwide with somewhere between 50% & 60% of users choosing it as their primary browser, we know a lot of users will be seeing this message if you are not secure.
What can I do to make my website secure?
It means that your website needs to have an SSL certificate installed on the website and server that it runs on.
What is an SSL certificate?
An SSL certificate provides an encrypted connection between the web server and browser keeping all the data secure.
Contact Electric Media to ensure your website works securely
Contact us – we can arrange the purchase of your SSL certificate and make sure your website runs securely.
Additional reading
https://blog.cloudflare.com/https-or-bust-chromes-plan-to-label-sites-as-not-secure/