What is ShopTill-e? How can it help?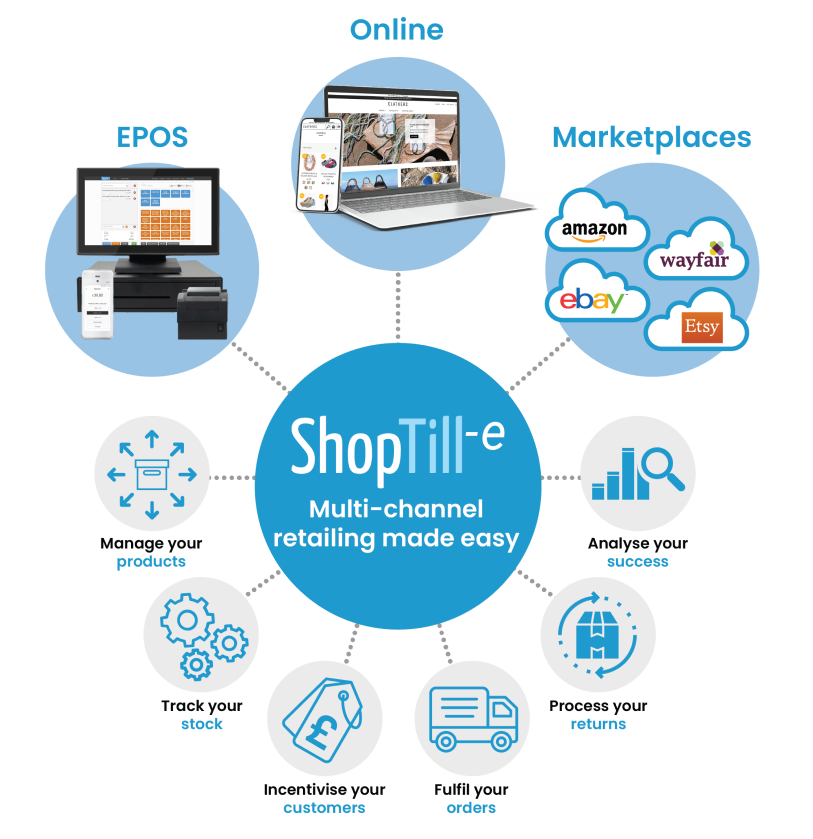 ShopTill-e all-in-one retail software gives independent retailers and trade everything needed to sell online and in-store, whilst managing their sales, customers and inventory.
There's no need to use separate platforms as ShopTill-e includes a comprehensive suite of tools, all under one roof :-
- eCommerce platform
- Point of sale software
- Marketplace integration
- Stock management
- Customer loyalty
- Payment processing
- Reporting
- and so much more....
And with everything all in one place, it streamlines processes, there's no duplication, saves precious time and with everything working together in perfect harmony, stock levels are easily managed.
And of course, it saves money as you're only paying for one system rather than several.
With ShopTill-e all-in-one you get :-
Fully featured ecommerce platform with online shop builder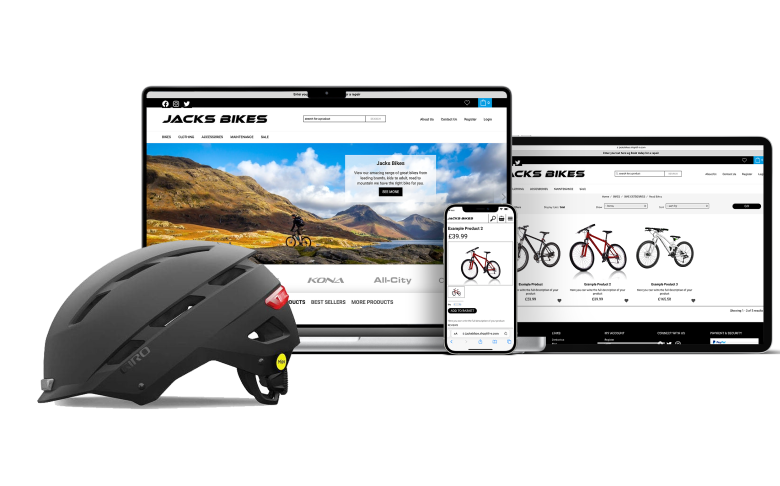 Ecommerce website themes
Easily set up your online shop, choose from one of the pre-designed, mobile friendly templates or we can design one for you
Get all the ecommerce features automatically
Promotions, discounts, gift vouchers, customer loyalty, reviews, comprehensive shipping options, blog, SEO friendly, and so much more
Fast, easy checkout
Start taking payments immediately, with guest checkout and customer logins, order history and wishlists
Sell where your customers are
Ability to list on Facebook, Instagram and Google Shopping as well as sell on eBay, Amazon, etc with the marketplace integration
Point of sale ePOS till software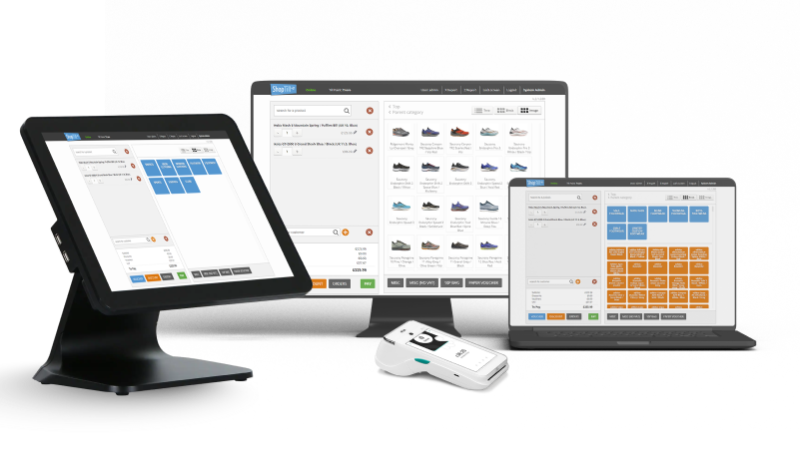 Works on existing hardware
Till software that can work on laptop, pc, tablet and POS hardware - touch screen, barcode scanner as well as keyboard and mouse
Fast sales with the simple till layout
Choice of till screen layouts, set up quick keys for regular products and speedy transactions
Get all the point of sale till features automatically
Promotions, discounts, gift vouchers, customer loyalty and so much more
Accurate transactions
Take card payments with integrated epos payments or it can work with your existing merchant account - print or email receipts
Inventory management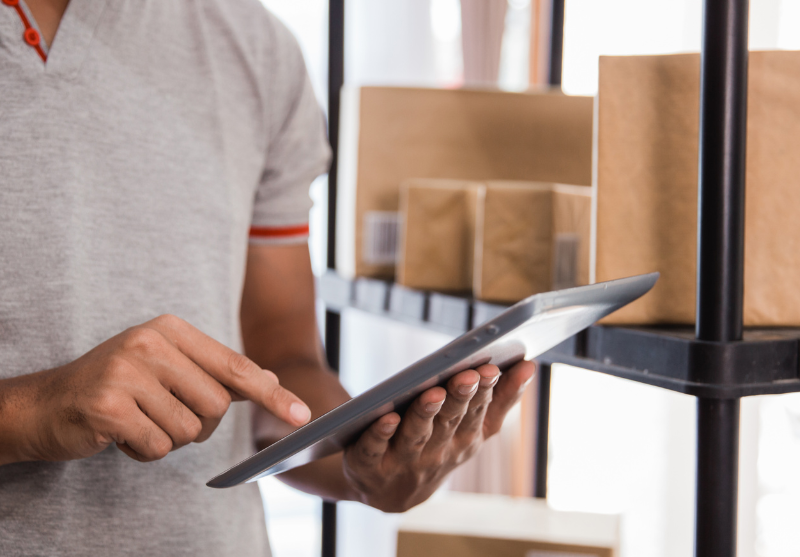 Centralised inventory area
Only add your products once and they are instantly reflected in your point of sale and ecommmerce shop
Understand stock levels
Track stock individually for each and every product variant everywhere you sell, know what's selling, where and when. As each sale is made, stock levels are seamlessly synchronised and adjusted in real-time across your sales channels
Reports and re-ordering
Get low stock and stock replenish emails as well as the ability to automatically create and build purchase orders for easy stock re-ordering
Intuitive retail management system for you and your staff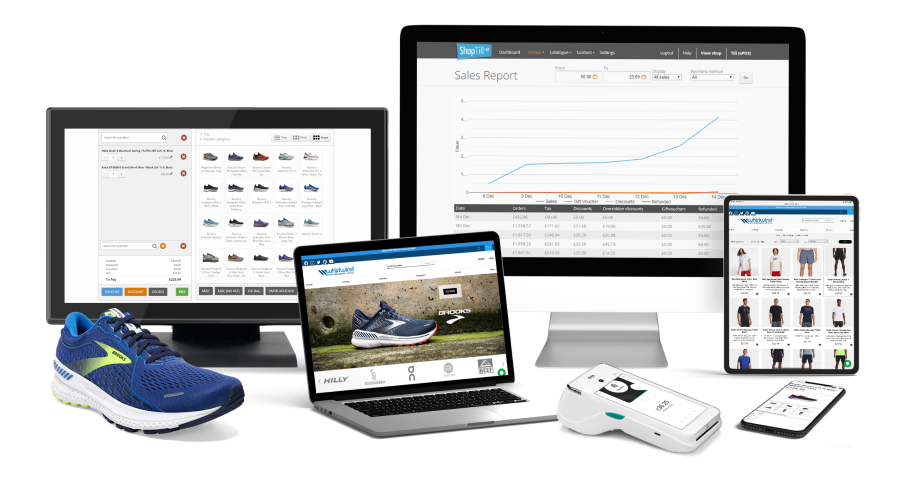 Scale quickly and with ease
Easily set up new users with their own login, and additional point of sale till points at no extra cost
Multi-location, multi-webshop
Add additional outlets and locations at any time, you can also run multiple ecommerce websites using one database - ShopTill-e scales and grows as you do
Centralised admin area
The cloud retail software means everything is in one place, manage and run your business from one central hub, oversee and access at any time
Multi-channel selling made easy with ShopTill-e all-in-one retail software
No set-up fees, no cancellation fees, no hooked-in contracts
Simple to set up, easy to use cloud software, start selling in minutes,
One retail system with everything in one place
Seamlessly synchronises products, sales, customers in real-time
Smart retail reports
No complicated plans, just simple, straightforward plans and pricing
What Penloe says about ShopTill-e...
"We were looking for a new system to replace our Epos and bridged Magento ecommerce websites, we struggled to find a company that could accommodate our needs until we discovered ShopTill-e.
Since we've been working with ShopTill-e, we've transformed our stock management, reconnected with our multiple web stores and third party sites including eBay and Amazon all from one easy to use system at a fraction of the previous costs.
Working with a company that understands our needs is priceless... it's so refreshing to deal with a company that has a genuine interest in helping our business grow. We can not recommend ShopTill-e enough, they're the perfect fit for our business and genuinely great to deal with."
Click here to read more ShopTill-e 5 Star reviews on Capterra.